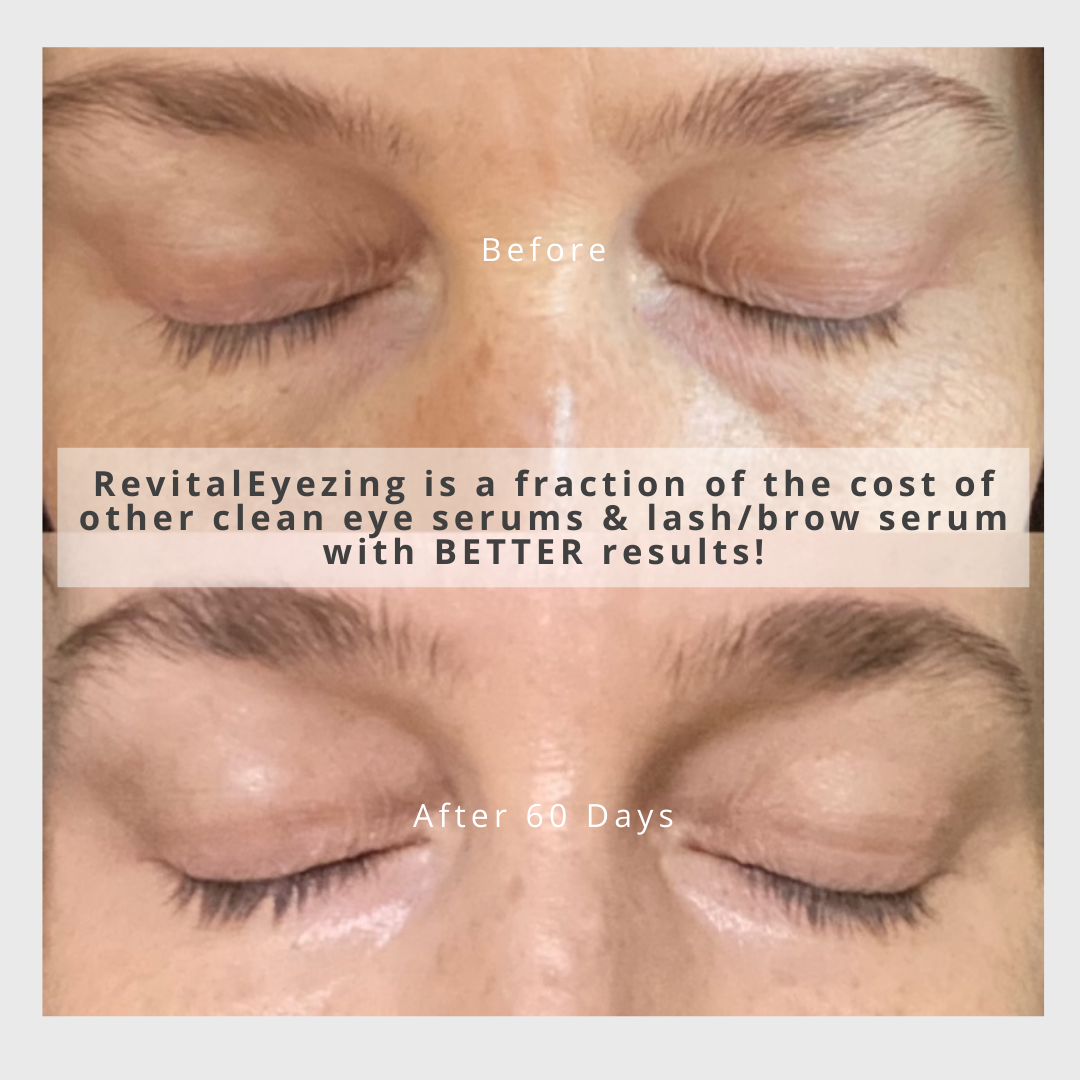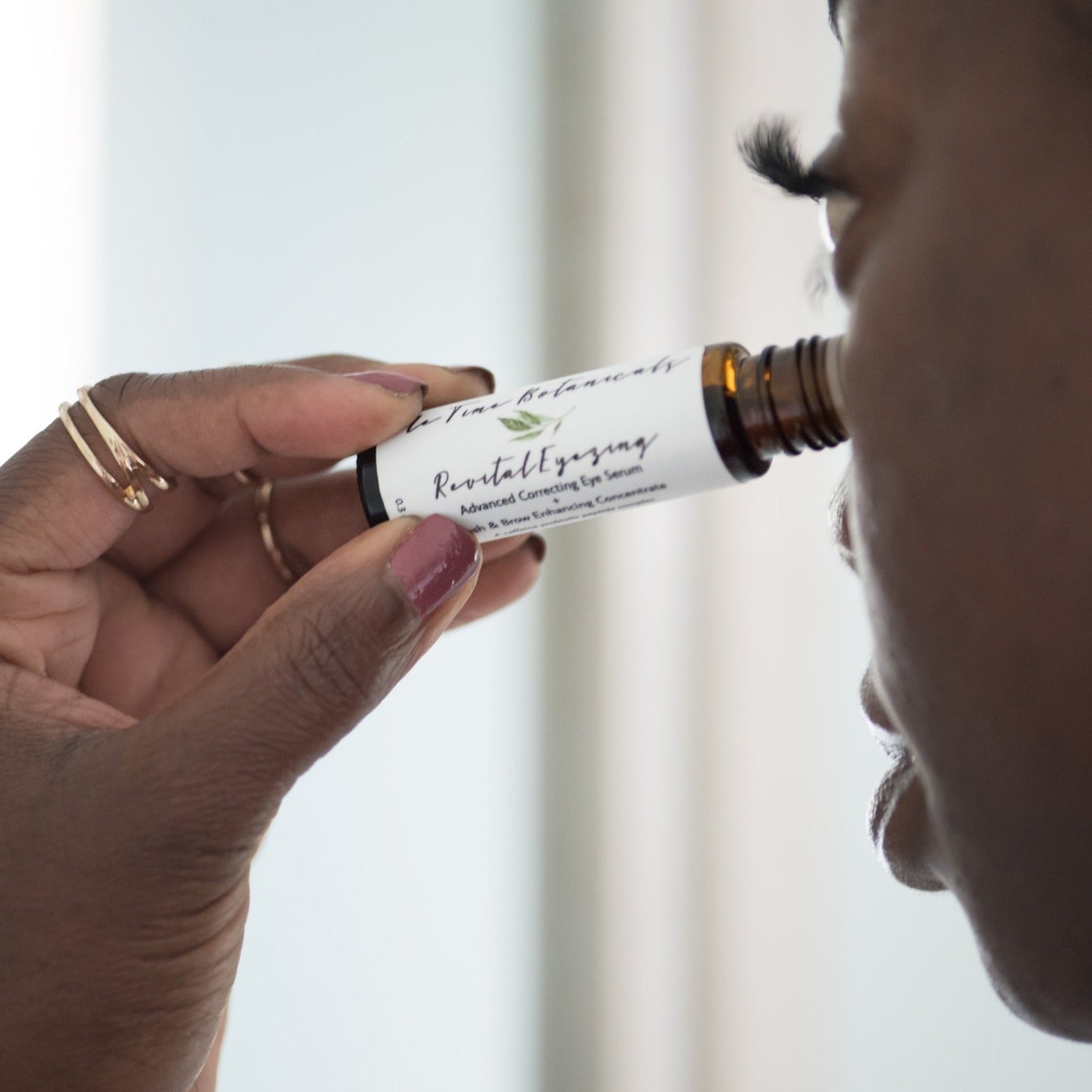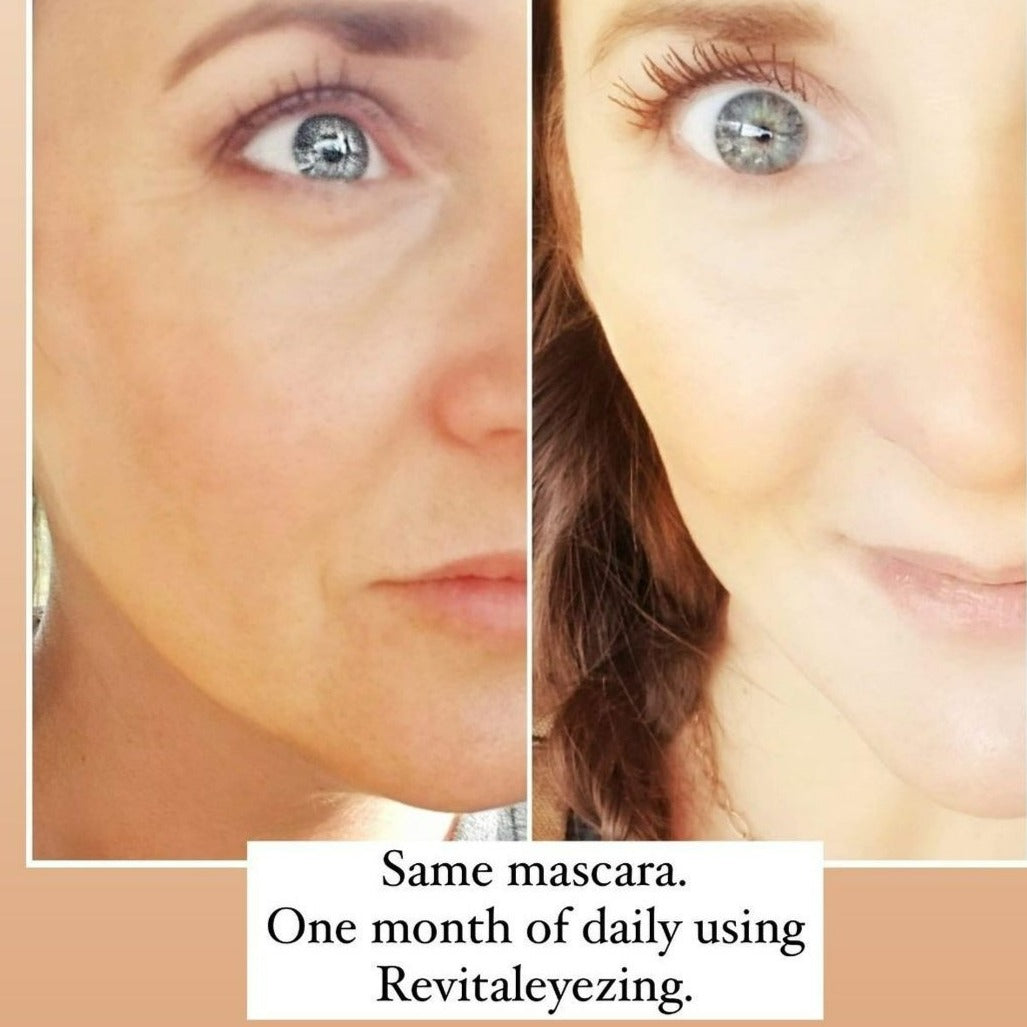 "My favorite eye + lash serum! Works better than all the other serums I've tried."- Mim
RevitalEyezing Eye Serum + Lash & Brow Enhancing Concentrate
Description

How To Use

What's In It
RevitalEyezing will have you saying goodbye puffy eyes and dark circles, hello longer thicker, lashes and brows!

The ONLY roll on eye serum that finally does it all! With just one swipe, RevitalEyezing depuffs, moisturizes, and brightens your undereye and improves the look of fine lines. PLUS, she conditions, strengthens, and encourages healthy brow and lash growth.

Caffeine, ginseng, and cucumber work to eliminate puffiness and brighten those annoying purple looking dark circles to make you at least look like you got a good night sleep

Organic rosehip, blueberry, and pomegranate seed oils nourish, soften the appearance of fine lines & wrinkles and restores the eye area.

Concentrated blend of sea kelp, pea peptides, nettle, horsetail, and jujube condition, strengthen, and encourage healthy lash and brow growth.
AM & PM: Roll under eyes, over & around eyes out to temples to de-puff, brighten, and soften fine lines. Roll over lashes & brows to support healthy growth. Pat in around eyes, giving yourself a tension melting massage to support depuffing.

RevitalEyezing's stainless steel roller ball massages serum under eyes and over lashes/brows making application easy, cooling the under eye, and promoting lymph flow.
Ingredients: *Purified Water, *Rice Extract, *Coffee Extract, *Ginseng Extract, Cucumber Extract, *Kelp Extract, Jujube Extract, *Nettle Extract, Horsetail Extract, Lactobacillus Ferment, Pea Protein Peptide, Propanediol (vegetable), *Rosehip Seed Oil, *Pomegranate Seed Oil, Blueberry Seed Oil, Coconut Fruit Extract, Acacia Gum, Xanthan Gum, *Rosemary Extract, Potassium Sorbate, Sodium Phytate *Organic Ingredients

Gentle enough for sensitive eyes and esthetician approved

100% Natural, 50% Organic

RevitalEyezing Advanced Correcting Eye Serum + Lash and Brow Enhancing Concentrate - 10 ml / 0.33 oz features a stainless steel rollerball applicator

lasts 3-4 Months when using AM and PM under the eyes and over lashes and brows.
A Tree is Planted with Every Order
Free shipping on orders over $80
RevitalEyezing Eye Serum + Lash & Brow Enhancing Concentrate
Less is More
Imagine achieving healthier, youthful looking skin with less. Less products, less steps in less time. Enter multitasking minimalist skincare designed for your busy life.
You deserve uncomplicated, simplified skincare that actually delivers. Plant powered. Science backed. Ethical, budget, and earth friendly, because we're passionate about what you put on your skin.
It's about time you had some Me Time.
Peptide & caffeine powered serum
Why bother with 2 or 3 different products for your eye area, lashes, and brows? Sounds expensive and exhausting.

Meet RevitalEyezing, our serum for your lashes, brows, and your eyes.
FAQ
Are these sustainably sourced and made?
Each and every Me Time product is made right here in my Charleston, South Carolina studio. All of the gorgeous multitasking skincare rituals are formulated, batched, and bottled by me, Kara. With production being in house, I have complete control over sourcing ingredients that are sustainable, fair trade and locally produced where possible with your skin in mind.

I even ship directly from the studio as well. This reduces the carbon footprint because the products are made in the same studio they are shipped from.  They aren't being made by an outside manufacture, then shipped to a warehouse, then shipped to you.

It brings me so much joy packaging up your rituals.

All Products are sustainably packaged in glass to infinitely recycled, upcycled, or reused.
Wil this work for my skin?
reat question! This collection and honestly all Me Time products are perfect for all skin concerns and types! 

Oily skin, Combo, and Acne (Hormonal Breakouts too) Prone: Balances oil production, calms and clears inflamed, congested acne/breakout prone skin. You'll love this blog post all about breakouts and 5 quick ways to reduce breakouts.

Dry, Dehydrated, Dull Skin: Delivers instant hydration and locks in moisture to deeply nourish, soften, and repair skin. Find out the difference between dry and dehydrated and how to nourish your skin.

Sensitive, Rosacea, Dermatitis, and Eczema:Gently calms, reduces redness, and soothes irritated skin. Helps restore and strengthen your microbiome (skin barrier). Check out this blog post all about calming redness and rosacea flareups.

Mature and Aging (with confidence):I believe we should embrace our skin, not cover it up. When your skin is healthy and glowing, fine lines, age spots are a LOT less noticeable. Me Time skin rituals deeply hydrates, antioxidant rich to fight free radicals, plump and firm skin. Softens fine lines, improves skin health, Smooths texture, evens out and brightens skin. Check out this post all about #1 ingredient to nourish mature skin.
Why Should I try this?
You'll achieve glowing youthful skin for confidence boosting results all in a super simple skincare ritual that encourages a little me time. Because you deserve a skincare routine that will actually get you excited about washing your face probably for the first time ever. What more can a Glow Getter ask for?! 

Once I cracked the code of simplifying a skincare routine formulated with gentle multitasking ingredients that actually worked, I knew I had to share them with you. People will start complimenting you on your glowing skin and asking you what you've done differently. Seriously!

Thousands of women have been shocked at how quickly these multitasking skin rituals reduce the appearance of redness and inflammation, calm, soothe, soften and brighten their skin.

Simplified Skincare.Youthful Glow!
What if this doesn't work? Do you offer refunds?
Our in-house small batch, from-scratch production process is labor-intensive so I hope you LOVE your new skin rituals. If you're having a reaction, not loving them, or need more help with the best ways to enjoy your new skin rituals, absolutely reach out to me at hello@metimebotanicals.com so I can help.

Our rituals are a lot different than other skincare lines because you can use them in so many different ways. But if you don't love how they make your skin glow after 14 days, I'm happy to offer you a refund in the form of store credit.There are many other goodies to experience. Everyone's skin is different. I understand so I offer a Sample Set that will allow you to experience Me Time's multitasking skincare. It's a great introduction to our line without the big commitment.

 No need to send back your products (that's a hassle and increases your carbon footprint) because I want you to share them with a friend that will love them. What might not work for you, may be another's holy grail skincare must haves.

NOTE: Sample Set is not eligible for store credit. Our products have a light earthy, herbal, floral aroma but are not overpowering at all to those with sensitive noses. However, I'm not able to offer store credit just because you don't like the smell.